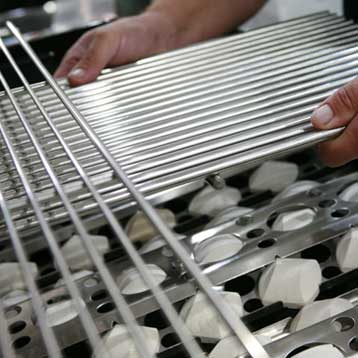 About Us
HOW WE FIRST CAME TO THE RESCUE 
Australians gathering around the 'barbie' with a drink and a plate of food is one of our most endearing and enduring customs. But over the last decade or so, the humble barbecue has undergone something of a revolution.
As barbecues become more sophisticated, so do the methods of cleaning, servicing and repairing them. While these tasks have grown beyond the skills of the average barbecue owner, there were no full-service barbecue maintenance companies until BBQ Rescue came along.
Like many success stories, BBQ Rescue started as a simple idea that steadily grew into the business it is today . Garry Gibbs, a former photographic technician, originally began delivering and assembling BBQs after work and at weekends as a second income stream. He quickly saw that there was an untapped market in follow-up cleaning and servicing because the owners didn't have either the time or the skills to do it.  Garry began offering this as a value-add service and, aided by referrals from barbecue retailers and manufacturers, the business took off.
In 2000 Garry realised the potential of BBQ Rescue was too big to ignore, and quit his job to run the business full time.  Connie Gibbs, who had valuable skills and experience in training and recruitment, new product development, IT and operations, joined her husband in the business.
Together, they've strategically developed a very strong brand that holds a unique position in the marketplace.  It's underpinned by robust systems, excellence in customer service and established supplier relationships.  Many other companies have tried to copy our systems and business model,  not only here in Australia but overseas.
BBQ Rescue Vision and Mission and Values
Our Vision
To maintain our position as industry leader, In doing so establish our brand as a well known Sydney household name.
Our Mission
To provide the best "One Stop Mobile BBQ Service" by:
Remaining passionate about the unique and seamless service we have created, developed and deliver to a high standard.
Always ensuring we not only meet but exceed our customers expectations leaving them positive about the overall experience.
Provide a high quality professional service from initial point of contact through to the completion of the job and beyond.
To remain the BBQ experts by always maintaining and improving the best technical service and knowledge.
Continue to strengthen our relationships with our suppliers and business associates.
Our Values
To never forget the importance our customers, our people, our suppliers and business associates and the impact they have on our success.
To treat everyone with respect, honesty and integrity.
To acknowledge each others strengths and ideas and provide a supportive environment.